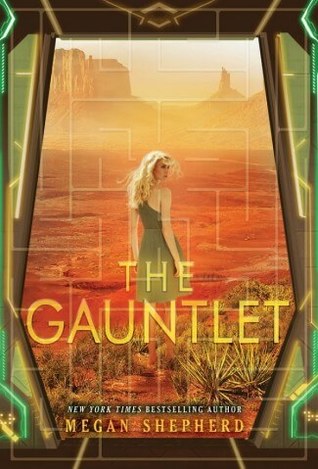 Series: The Cage
Titles: The Cage (Book 1), The Hunt (Book 2), The Gauntlet (Book 3)
Author: Megan Shepherd
Page Counts: 405 (Book 1), 368 (Book 2),  393 (Book 3)
Publishing Dates/Publishers: May 26, 2015 by Balzer + Bray, May 24, 2016 by Balzer + Bray, May 23, 2017 by HarperCollins
Format: eBook and Hardcover
Review: I decided to review these books as a series because my general feelings about all three are the same.  To sum it up, this series was bizarre.  I know, I know, you are probably thinking that science fiction in general is bizarre, but this series is on another level.
The first thing that bothered me is the explanation for how these teens end up locked up in an extraterrestrial cage.  It makes absolutely no sense, and the reasons why they were chosen for abduction make no sense either.
The other thing that I found supremely annoying was the romance between Cora and her abductor.  Why?  Because it was extremely anticlimactic (Spoiler alert: so is the ending).
Even with all this weirdness going on, I still liked the series.  If you can get past all the absurdity of the backstory, it is an amusing read.  I will also say that it is hard to predict where the story will go because the author keeps throwing in new elements that shake up what you know about the universe she has created.  I kind of enjoyed the fact that humans, who consider themselves intellectually superior to other species on Earth, are considered primitive by all the other beings in the story.  It really makes you ponder how extraterrestrials might view us should we ever cross paths with them in the future.
Reader: Bekah
Overall Rating: