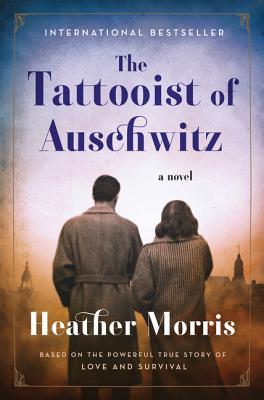 Title: The Tattooist of Auschwitz
Author: Heather Morris
Page Count: 262
Series: N/A
Publishing Date/Publisher: September 4th 2018 by Harper (first published January 27th 2018)
Format: Paperback
Review: I loved this book. It's heartbreaking and awe-inspiring and wonderfully written. It's a quick read, which is good because you don't want to get stuck in that mindset for too long, since it's about Auschwitz.
Lale's story is one of immense hardship and Heather Morris tells it very well. It also makes you wonder what you would do if put in his position. He was a remarkable man, and I really enjoyed reading about him.
Lale, as the title suggests, was a tattooist at the concentration camp. His job was to etch numbers on the arms of the new prisoners, and what first grabbed me about him was how he tried to be gentle with Gita's when she came into his line. He did not know her but he felt the need to make this process as easy as possible, to the point where he almost got in serious trouble for going so slowly. Sometimes it's the small things that endear someone to you so much.
Reader: Kymberly
Rating: 
Review: This is an incredibly moving book, and it is no wonder that it is a best seller (it had over 80 holds in my library system at one point!).  This book is a very quick read, so I recommend reading it in one sitting if you can.
As you can imagine, the content of this book is incredibly sad.  My stomach was churning literally the whole time I was reading it.  It is through a series of miracles, both large and small, that the main characters, Lale and Gita, survive.  Honestly I don't know if I could have made it through the book without knowing that in advance.
This is one of the rare cases that instant love between two people in a story does not make me roll my eyes.  It is literally love at first sight for these two, and though they know very little about each other, it is a love so pure it makes your heart ache.
There is one particular scene in this book that stands out to me and I think it really encapsulates the heart of this story.  Lale comes across a single flower while walking to his barracks one day, and the mere sight of it gives him pause.  It is such a rare sight to see something so delicate and beautiful that he can't help but stop and marvel at it.  In my mind, this flower is symbolic of the love between Lale and Gita.  It is the one beautiful thing blossoming in a landscape of unimaginable horrors.
After reading this book it is hard not to believe in the concept of soul mates.  It is unlikely that these two would have met under any other circumstances, and it is even more unlikely that they would have both been able to survive the atrocities committed against them.  Yet they did meet, they did fall in love, and they did survive.   This was a story that needed to be told, and I am so glad it has reached such a wide audience.
Reader: Bekah
Rating: