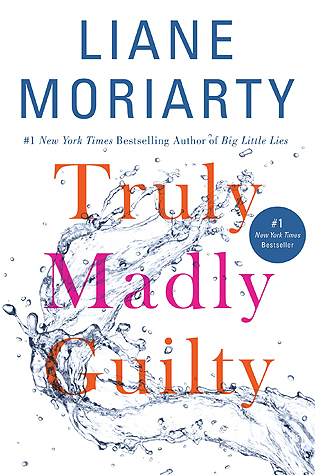 Title: Madly Truly Guilty
Author: Liane Moriarty
Performer: Caroline Lee
Length: 17 hr, 20 min, 31 sec
Series: N/A
Publishing Date/Publisher: 2016 by MacMillan Audio
Format: eAudiobook
Review: Moriarty's writing is on another level.  I am always stunned by her rare ability to write many layered characters.  By the end, you truly feel like you know them on a deeply personal level.  All of their flaws and quirks are laid bare and you can't help but love them.
This book is arguably one of Moriarty's best.  The relationships she creates are so wonderfully complicated and there is a lot of depth to each of her characters.  Even minor details prove to have larger significance as the story progresses.  Each big reveal is not only surprising, but adds increased depth to the story.
I was on the edge of my seat throughout the entire story, and I felt the characters emotions as if they were my own.  I was so caught up in each moment that I felt like I was actually living the experience through the perspective of each character.
The performer of this book, Caroline Lee, does all of Moriarty's audiobooks.  Her voice infuses the story with just the right amount of snark and truly captures the seriousness, the wit, and the humor that is signature to Moriarty's novels.
Reader: Bekah
Rating: