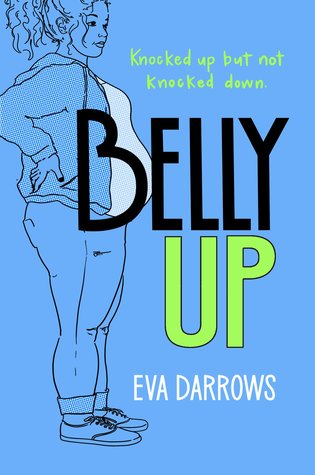 Title: Belly Up
Author: Eva Darrows
Page Count: 384
Series: Unknown
Publishing Date/Publisher: April 30, 2019 by Inkyard Press
Format: eBook
Review: There are so many things I love about this book.  Most importantly, there are the characters.  Darrows' characters are full of personality and spunk and the dialogue between them sometimes had me snickering out loud.  Bottom-line, I want all of them in my life for reals.
Teen pregnancy books often fall into the realm of "issue" fiction, but this is so much more than just a cautionary tale.  Certainly the main character, Sara, has to come to terms with the repercussions of a single night of indiscretion, but she finds strength in herself and the people in her life as she navigates through some tough choices.
There is a whole lot of representation in this book.  The main character is biracial and bisexual/questioning.  Her best friend is asexual, another friend is transgender, and her boyfriend is demisexual.  I have to admit that I had to look up several of the terms and identifiers used in this novel because I had no idea what they meant.  The story really covers a wide spectrum of gender and sexuality, and it is rare to see that kind of fluidity represented in YA fiction.
I highly recommend this book.  It is smart, it is funny, and it really shows how important it is to surround yourself with supportive and loving people…people who will be with you through thick and thin (pun intended).
Reader: Bekah
Rating: