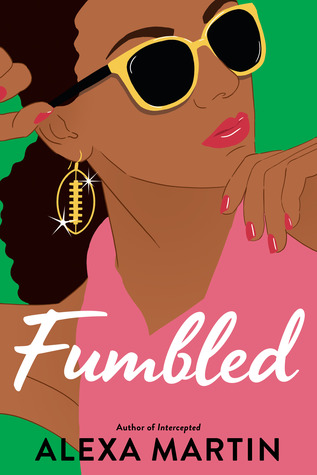 Title: Fumbled
Author: Alexa Martin
Page Count: 320
Series: Playbook, Book 2
Publishing Date/Publisher: April 23, 2019 by Berkley
Format: eBook
Review: This was one of those books that teetered between a 3 and 4 star rating for me.  The story is very cute, and there were certain aspects that I thought were worthy of note, but there were also a few places it fell short for me.
The main character, Poppy, was great and I loved how down to earth she was.  However, I personally did not think that there was enough build up leading to her rekindled romance with TK.  He did not have to work very hard to be back in her life, and the attraction between them seemed mostly sexual.  I would have loved to see them connect on a deeper level beyond their shared child.  I did, however, really like that TK idolized her post-pregnancy body.  This really spoke to me, because I have struggled with accepting the permanent changes in my body post-pregnancy, and it made me feel good to see stretch marks, saggy boobs, and a few extra pounds portrayed as desirable and beautiful.
I also don't think that the author ever really provided an explanation as to how TK missed out on the news regarding Poppy's pregnancy.  It is implied that this was a machination of his meddling mother, but it was not explained how she got to his text messages before he did.  And who was the girl that answered his phone?  I suppose we may never know.
This is actually the second book in a series, and I like how the author incorporated characters and storylines from her first book into this one.  From early on, it seemed pretty obvious that her next book will focus on a romance between two supporting characters, Maxwell and Brynn, and I think that will be fun.
It should also be noted that the author spent 8 years as an NFL wife, so I assume that her depiction of what life is like for the wives and girlfriends of players is pretty accurate.
Reader: Bekah
Rating: