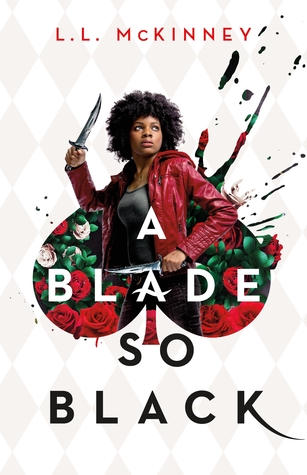 Title: A Blade So Black
Author: L.L. McKinney
Performer: Jeanette Illidge
Length: 11 hr, 24 min, 1 sec
Series: A Blade So Black, Book 1
Publishing Date/Publisher: 2018 by MacMillan Audio
Format: eAudiobook
Review: This book wasn't terrible, but it wasn't really my cup of tea.  It was sort of Alice in Wonderland meets The Mortal Instruments meets Social Justice Warrior.
The author was clever in how she wove the aspects of the original tale into her adaptation, which is why I thought it was an OK read. Unfortunately, many of the hot button issues that were addressed in the story such as race relations and violence were not fully fleshed out and I was bothered by the occasionally prejudiced dialogue, the selfish characters, and the anti-law enforcement undertones.
I will, however, note that many of the elements I found to be problematic are mostly in the first half of the book.  The second half of the book is, in my opinion, a much more enjoyable read than the first half.  I initially thought I would be rating this book with two stars, but it went up to three as I neared the end of the book.  I believe this is McKinney's debut novel, so I imagine her character/plot development and pacing will continue to improve in any subsequent books in this series.
I did listen to this book in audiobook format, and although I thought that the various voices chosen by the performer worked for the characters, I thought that she had some difficulty with transitioning between those voices.  At times this was confusing, but overall I liked the cadence of her voice and thought she did a good job.
Reader: Bekah
Rating: