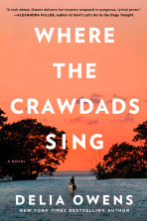 Title: Where the Crawdads Sing
Author: Delia Owens
Page Count: 325
Series: N/A
Publishing Date/Publisher: August 14, 2018 by G.P. Putnam's Sons
Format: Hardcover
Review: This book has been at the top of the NY Times Bestsellers List for awhile, and I have had several patrons ask for read-alikes, so I decided to see what all the fuss is about.
This book started out slowly and kept a steady pace.  The author did an excellent job crafting the setting.  I could practically feel the marsh; the languid air, the movement of the water, the teeming abundance of life.  It was absolutely gorgeous in every sense, and I felt deeply connected to the land, the animals, and the "Marsh Girl."
Owens has created incredibly unique characters, and truly captured the sentiments of small town living.  There are many layers to this book – race, gender, social class, and sexuality to name a few.  All the elements are very well crafted and it is easy to see why this book has been so well received.
The reason I am not giving this book five stars is because I was extremely conflicted about the ending.  To be honest, a big part of me wishes I had not read the final chapter.  There is a certain amount of power in the unknown, and I think I would have been more satisfied not knowing what precipitated the mysterious death of Chase Andrews.  Perhaps this will seem like an odd sentiment to some, but I truly feel that in this case, I would have preferred to be left speculating about what happened on that fateful night.
Reader: Bekah
Rating: