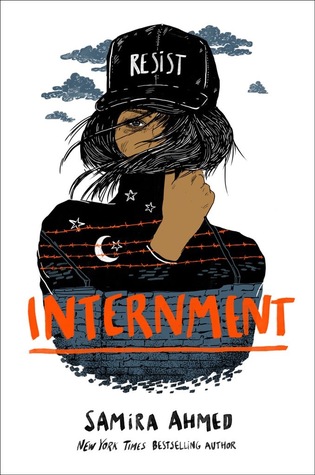 Title: Internment
Author: Samira Ahmed
Page Count: 386
Series: N/A
Publishing Date/Publisher: March 19, 2019 by Atom
Format: Hardcover
Review: This is one of those books that readers seem to either love or hate, but I actually fall somewhere in the middle.  It is a speculative novel that heavily draws on current events (more than a few jabs directed at the current administration) and links it with the Japanese-American Internment camps of the 1940s.  In this imagining, Muslim-Americans are targeted as enemies of state and relocated to internment camps on American soil.
I thought the concept for this book was interesting, and I could appreciate the historical tie-ins, but I think it fell short of being great.  My biggest issue with this book was the villain.  "The Director" is portrayed as a cruel man who easily loses his cool and throws violent tantrums.  He was incredibly one-dimensional, and was really a caricature of the "racist middle-age white man" that has become so vilified by our culture.  Of course, all the prison guards were also white men, because apparently there is no diversity in the National Guard.
The cover art for this book is gorgeous, and that really drew me to the book more than anything.  I think it appropriately captures the essence of the story and I imagine it has drawn in a lot of other readers as well.  I think that this book will really appeal to teens and it would be a great discussion book for teachers to assign when studying World War II and the Japanese-American internment camps because it offers a fresh setting that they may better relate to.
Reader: Bekah
Rating: