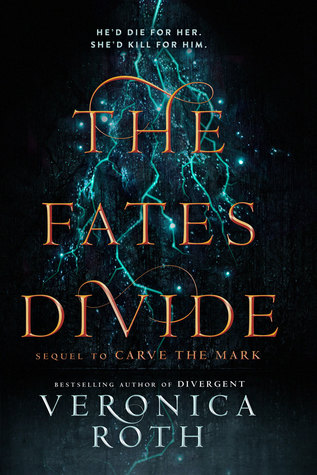 Title: The Fates Divide
Author: Veronica Roth
Performers: MacLeod Andrews, Erin Spencer, Emily Rankin, and Austin Butler
Length: 13 hr, 54 min, 13 sec
Series: Carve the Mark, Book 2
Publishing Date/Publisher: 2018 by Harper Audio
Format: eAudiobook
Review: The writing and character development in the Carve the Mark duology is worlds better (pun intended) than Roth's Divergent series.  The twists and turns in this book were unexpected, and I really appreciate that the author does not shy away from tragedy.  Like her Divergent series, no character is left unscathed and all experience some degree of suffering.  This makes the story feel more real, because in real life, the good guys don't always win.
The multiple perspectives in this book warranted several performers. I have no complaints about the voices that were cast in the various roles.  The voices were different enough that I could easily follow multiple points of view without confusion, so that is an added bonus.
It is very unusual these days to find a YA Fiction duology.  I actually would like to see more of that from other young adult authors.  Some stories just get drawn out longer than they need to, so it is nice to read a series that can be complex without being too drawn out and wordy.  Kudos to Miss Roth for proving that a great fantasy story can be told in just two installments!
Reader: Bekah
Rating: