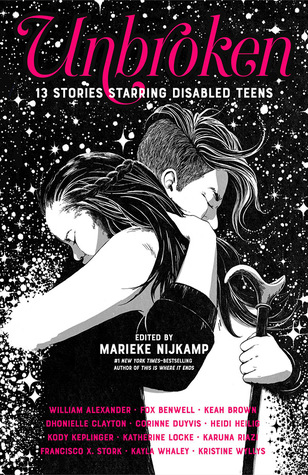 Title: Unbroken: 13 Stories Starring Disabled Teens
Editor: Marieke Nijkamp
Page Count: 320
Series: N/A
Publishing Date/Publisher: September 18, 2018 by Farrar, Straus, and Giroux (BYR)
Format: eBook
Review:  It can be very difficult to rate short story anthologies because the content is so varied; however, I think that 3 stars would be my average rating.  As expected, some stories I enjoyed more than others, but overall I was impressed by the diversity of characters represented.  There were LGBT characters, gender fluid characters, persons of color, persons of different religions, and of course, all characters had some sort of disability, whether it be physical, intellectual, or emotional.  Some of the genres covered were horror, science fiction, fantasy, and romance.
There were a couple stories where it was not clear what disability the character had.  The descriptions were very ambiguous, and if you did not know that this was part of an anthology featuring youth with disabilities, you would probably miss the fact that a disability was even involved.  It would have been nice if  the authors had covered what inspired the characters they created in their short bios at the end of the anthology.
Another thing that really stood out to me is that the title of the anthology does not adhere to person first language (i.e. Stories Starring Disabled Teens vs. Stories Starring Teens with Disabilities).  Admittedly, I am very aware of this distinction due to a training I received at work, so perhaps it does not stand out to others the way it does to me.
Reader: Bekah
Rating: