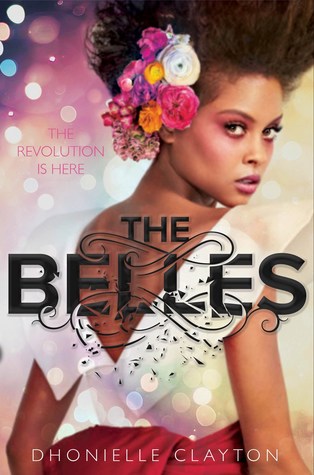 Title: The Belles
Author: Dhonielle Clayton
Performer: Rosie Jones
Length: 13 hr, 2 min, 45 sec
Series: The Belles, Book 1
Publishing Date/Publisher: 2018 by Blackstone Audio
Format: eAudiobook
Review: This book knocked my socks off.  I have been eyeing it for some time due to the beautiful cover art, but kept passing it over in favor of other fantasy novels.  That was my mistake, because this book blew me away with it's originality and spectacular character development.  Camellia is not by any means a perfect heroine, and this makes her all the more relatable.  The antagonist of the story made my skin crawl, and was a total psychopath. This made for a very interesting story chock full of political intrigue, manipulation, and mystery.
What I find truly fascinating about this book, and what really sets it apart in my mind, is the author's commentary on beauty through the story.  Beauty standards are fickle and ever changing in today's world, and it is no different here.  All over the world people are obsessed with achieving impossible standards of beauty, and are never satisfied because beauty is perceived differently by everyone.  This is reflected in the world Clayton has created, where physical appearance can be changed in a matter of minutes, but at great personal and financial cost.  People are constantly changing their appearance to match changing beauty trends and endure a great deal of physical pain to make it happen.  The parallels this draws to real life make this a wholly believable story despite its fantastical elements.
I deducted a half star from my rating because there were a couple things that I did not feel were fully explained, but these minor plot hiccups may very well be ironed out in the second book in the series.  I have already requested it from the library and look forward to listening to it.
The performer for this story was perfection.  She easily ranks as one of my top favorite readers after listening to this performance.  I can't wait to hear her in other works.
Reader: Bekah
Rating: